Dividend investing to retire on passive income
When I started working in a bank at the age of 23, I quickly understood that I should start saving money for my retirement. Working for a bank is far from being the worst job ever; you have a good income and a fully funded pension plan, but I wanted more: I wanted to reach financial freedom sooner than 65. Plus, you never know if you are going to keep this great job with this great pension fund. This is why I've been working very hard for the past ten years to build a retirement nest egg aside from my pension plan. I started investing the week after I started working with the result of taking 19K out of a 20K line of credit and dropped this money deep into the market. Within three years, I bought my first house and my cash down payment came from my trading success. I made some good trades, some bad and learned the ropes of investing and making money.
Fast forward a few years later, I'm now married with three kids and you can guess I don't have much time on my hands to invest money on the market. This is why, since 2010, I've studied many ways of investing and looked at how I could generate interesting investment returns more passively. The results of my research pointed towards dividend investing as the most effective investing strategy; keeping the balance between the time required to invest versus the expected return. Plus, dividend investing is definitely the best investing strategy for a retirement account. Here's why.
How about an ever growing pension income?
When you buy a strong dividend stock; you can expect the company to increase its payout almost every year if not all the time. Some companies even increase their dividend so fast that they double the payout every 7 years! This means that if today you receive $10,000 in dividends annually from Coca-Cola (KO), you will receive $20,000 seven years from now. This is a great way to protect your lifestyle against inflation and keep your income growing without any worries. Take a look at how Coca-Cola increased its dividend per share since 1986: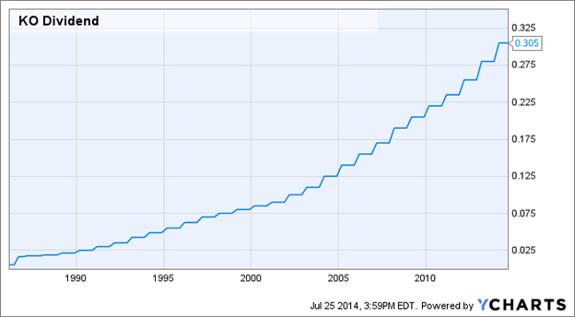 Dividend stocks usually pay their distribution quarterly. The good news is companies don't all start their distribution quarters on the same month! Once you retire, you can easily make sure to combine several companies in your portfolio in order to receive cash every month. And each month, you will receive more and more income to enjoy life!
Dividend stocks sink less than the rest of the market
Another thing I like about dividend companies is the fact that most of them show solid balance sheets. In order to distribute dividends, a company must first make profit and be well established. This doesn't mean the company will go through recession without being hurt, but it will definitely help it weather the storm. Some companies go even through the worst market crash without blinking. Look at how McDonald's (MCD) reacted to the 2008 market crash:
While the overall market was brought down to their feet, McDonald's kept going higher. Note that not all dividend stocks went that way during the crash. Worse come to worst, even when the stock value is down, you still earn your dividend distribution. In other words, you are getting paid to wait. Each time I look at my portfolio during a market plunge, I smile when I see cash coming in monthly no matter what!
Avoid headaches, a simple set of rules is enough to invest
Over the years, I've given myself a simple set of investing rules to follow. For example, I usually start my hunt for a good dividend stocks using a stock screener with the following metrics:
So here are the basic metrics I use when starting my hunt for a new stock:
Dividend yieldover 2.50%
Dividend payout ratiounder 80%
3yr/5yr Dividend growthpositive
3yr/5yr EPS growthpositive
3yr/5yr Sales growthpositive
P/E ratiounder 20
The point here is to pick stocks that have shown constant growth in term of sales, profits and dividend distributions. If these three factors are combined together, you start with a company that could make you happy for a while. It's not complicated and doesn't require a Ph.D in mathematics!
After this operation, you are left with a small list of high quality stocks that could be integrated into any dividend portfolio. However, do not forget the past doesn't guarantee the future. Therefore, past great results don't mean future growth either. But you need to start somewhere, right?
Looking for help with your portfolio?
Running stock screeners and making a list of interesting stocks is easy. But then, you have to dive into the financial statements and look for details in order to pick the best stock from your list. This is usually the boring part for most people who don't like investing that much. This is why I've created rock solid portfolio models investors can follow in real time on my investing platform; Dividend Stocks Rock. Along with the portfolio example, I even give away my pre-screen lists of dividend stocks along with a bi-weekly newsletter, 100% about dividend stocks.
If you have any questions in regards to dividend investing, please leave a comment below and I'll be more than happy to answer back!