Epilogue Wills Review: Create a Legal Will Online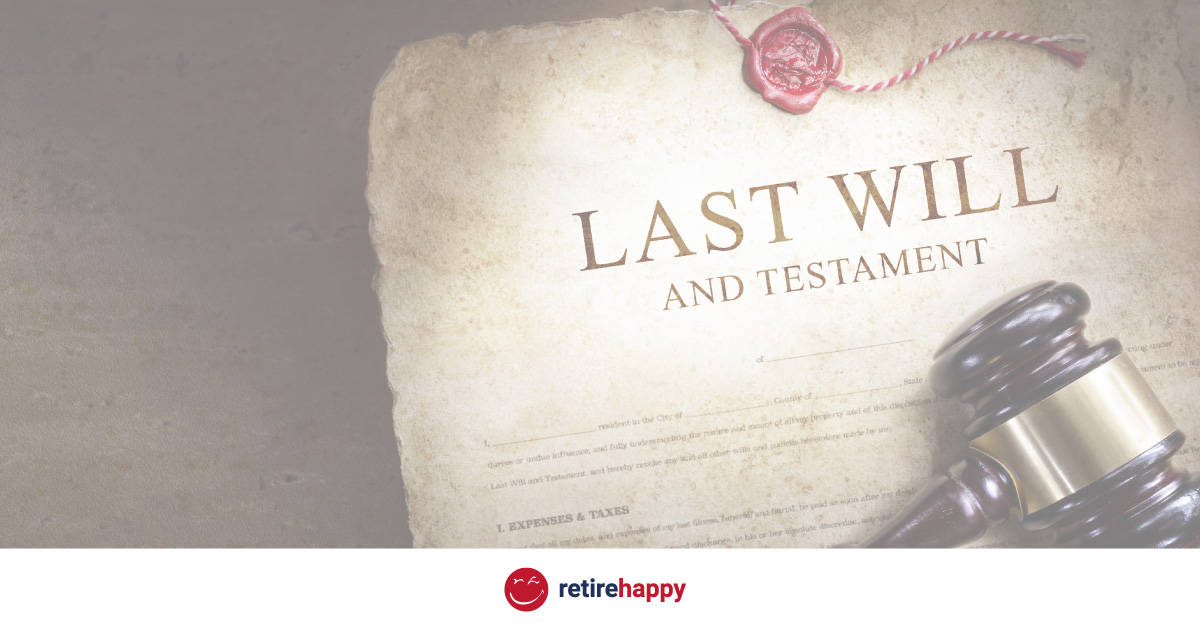 If you have never created a Last Will and Testament or a Power of Attorney, why not? After all, estate planning is a core tenet of a sound financial plan. Unfortunately, too many Canadians don't have a will.
Thankfully, creating a Will and Power of Attorney has never been easier or more affordable, thanks to online will platforms like Epilogue Wills.
In this Epilogue Wills review, I'll tell you how you can create a perfectly legal document in 20 minutes that communicates your last wishes after you pass away.
I'll explain how the process works, cover Epilogue's pricing and share some pros and cons. Ready to hear more? Let's dive in!
Who Is Epilogue?
Epilogue Wills is an online platform that lets Canadians create their own legally binding Wills and other estate planning documents for a fraction of what they would pay to a lawyer.
Currently, Epilogue is available in nine Canadian provinces, namely British Columbia, Alberta, Saskatchewan, Manitoba, Ontario, New Brunswick, Nova Scotia, PEI, and Newfoundland and Labrador.
Epilogue was founded by two former estate lawyers with over a decade of experience, Daniel Goldgut and Arin Klug. In addition to affordable pricing, Epilogue wills are created using an intuitive online platform.
According to Epilogue, you can create a legal Will in under 20 minutes.
Get Started with Epilogue Today
How Epilogue Works
As mentioned, you can create a legally binding Will with Epilogue in about 20 minutes. To get started, select "Start My Will" from the Epilogue website homepage.
Epilogue will take you through a series of guided questions to gather pertinent information, such as your assets, your desired executor, a list of beneficiaries, the legal guardian for minor children, etc.
Once Epilogue has collected the necessary information, they will generate your Will. You can print your will or have Epilogue print and mail it to you for a fee.
Remember, your will only becomes valid after it's been signed by you in the presence of two witnesses. Your witnesses must also sign your will. Your will does not need to be witnessed by a lawyer.
If you choose to complete a Power of Attorney for Property or Power of Attorney for Personal Care, also known as a living will, those can be completed simultaneously.
Epilogue Plans & Pricing
Epilogue Wills offers two online Will packages, with pricing for individuals and couples. The first plan is called Will Only, and it works exactly the way it sounds.
The second package, called Will & Incapacity Documents, covers death and incapacity by adding a Power of Attorney for Property and a Power of Attorney for Personal Care. Let's take a closer look at both plans.
Will Only: Individuals $139 / Couples $229
Create your own custom wills
Express your wishes for a funeral and burial
Detailed signing instructions are included
Register your will with the Canada Will Registry (up to $80 value)
Free updates, anytime
Will + Incapacity Documents: Individuals $179 / Couples $289
Create your own custom wills
Express your wishes for a funeral and burial
Detailed signing instructions are included
Register your will with the Canada Will Registry (up to $80 value)
Free updates, anytime
Plus:
Power of Attorney For Property (appoint someone to handle your finances if you are incapacitated)
Crearte a Power or Attorney for Personal Care, often referred to as a living will.
Epilogue Social Media Will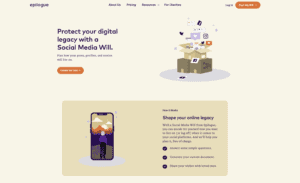 Are you familiar with social media Wills? That's ok; neither was I. So you might be surprised that Epilogue lets Canadians create a digital Social Media Will. The best part is that it's free and takes only a few minutes to complete.
What Is a Social Media Will?
A social media will allows you to communicate your wishes as to how your social media profiles are to be managed if you are incapacitated or pass away.
Consider how much of our lives are documented on various social media channels, like Facebook, Twitter, Instagram, etc. If you pass away, you cannot control what happens to those platforms.
Epilogue lets you create a plan for your social media accounts to ensure that you have a say should the unfortunate occur. According to Epilogue, it only takes about 10 minutes to complete the digital will, and it can be easily shared with the people you trust.
Get Started with Epilogue Today
Epilogue Wills for Advisors

If you're a financial professional, such as a financial planner, insurance advisor, or accountant, Epilogue for Advisors allows you to offer Estate Planning services to your clients.
Too many Canadians don't have a will or power of attorney, and no one knows this more than the advisors who serve them.
Instead of simply asking your clients if they have a legally binding will and referring them to a lawyer, hoping they will follow through, you can help them get a more affordable will with Epilogue Wills.
Epilogue Learning Centre
If you're concerned that you lack sufficient knowledge to create your own will, the Epilogue Learn Centre is packed with articles on just about any estate planning topic you can think of.
The learning material provides detailed information on the many roles pertinent to your will, like executors, guardians, beneficiaries, witnesses, powers of attorney, etc. They even have articles about pet guardianship.
Epilogue Pros and Cons
I like Epilogue as an online will solution for Canadians. But like any company, they're not perfect. Here's my list of Epilogue pros and cons.
Pros
Slick, easy-to-use platform
Create your Will in under 20 minutes
Estate plans are simple and easy to understand
The free social media will is a unique product
Free updates
Epilogue for Advisors may give more Canadians access to estate planning.
Cons
At $139, Epilogie's Will Only package is costlier than similar competitor plans
Online Wills aren't suitable for complex estates
Epilogue Wills vs. Willful
Epilogue isn't the only company providing online wills in Canada. There are several. One of the most well-known is Willful, a Toronto-based fintech founded in 2017.
Epilogue and Willful have similar product offerings and in many respects, are interchangeable. That said, they have their differences, so I recommend checking out both platforms so you can decide which one is more suitable.
Regarding options, both platforms have packages tailored to individuals and couples. Epilogue Wills is a simpler setup in that they offer two packages – Willful offers three. Willful's top-tier plan, Premium Coverage for Families, is designed for large households who may want more than two wills.
For example, if you have adult children, Willful lets you purchase up to 6 additional wills for a discounted price. I'm assuming that most people will only need one or two wills.
Looking at the premium plans, Epilogue offers lower pricing than the comparable Willful plan, at $289 versus $329 for couples and $179 versus $189 for individuals. On the other hand, Willful's basic plan is $99, whereas Epilogue's is $139.
Both companies offer access to the Canada Will Registry, which has a per-person value of $40. As mentioned previously, Epilogue offers a free social media will, which may appeal to some.
So, which platform is better? It depends on what you're looking for. If you're a single person and you only want a legal Will, you'll save a few bucks with Willful.
But if you're looking for a more comprehensive package, Epilogue offers a better value (unless you have a large household and wish to purchase more than two wills.)
One more thing, professional advisors will appreciate Epilogue's dedicated advisor service.
Get Started with Epilogue Today
Is Epilogue Wills Legit?
Yes, Epilogue is 100% legit. All of their Will templates have been designed and built by experienced estate planning lawyers, and are fully legal, providing that they are printed, signed, and witnessed properly.
Epilogue Wills FAQs
Do I Need a Will?
For the vast majority of Canadian adults, the answer is yes. If you don't have a legal will, you have no control over what happens to your estate when you die. The court may determine who receives what, including guardianship of any minor children. In 20 minutes, and for less than $200, you can take control of your estate.
Which Is Cheaper: An Epilogue Will or a lawyer will?
Online Wills like the ones offered by Epilogue are more affordable than Wills drafted by lawyers. Lawyers can charge as much as $750 or more per will, while Epilogue charges $139 for a basic will.
When Should I See a Lawyer to Get a Will?
Epilogue can handle estate planning for most Canadians. However, there are situations where it's recommended that you see a lawyer to draft your Will.
If your will is complex – you own foreign property, you are in a second marriage, you own a large corporation, you plan to leave one or more children out of your will, or there is an ongoing family dispute – these are all situations where you should get your will done by a lawyer.
Lawyers have the expertise to advise on these complex matters, and they can ensure there are no mistakes made in setting up your will.
Get Started with Epilogue Today
Epilogue Wills Review: Final Thoughts
My overall view of Epilogue is positive. I like the simplicity of their product offering and the way they make estate planning so easy and affordable.
Epilogue is well-suited for individuals or couples who want to draft a will and power of attorney/living will.
Their Will Only package is priced higher than competitors, and they're not set up for large families, but I don't think that will apply to most people. Of course, the most important decision you can make isn't which online will provider to use, but that you make a will and power of attorney.
And on that point, I think the folks at Epilogue would agree.