There are lots of different strategies to teach kids to save money but the classic icon for saving money is the pink piggy bank.
I started to teach my kids about money and saving at the age of 2.  Every child got a piggy bank and $3.41 which is a Twoonie, Loonie, quarter, dime, nickel and a penny.
If you think about it, the pink piggy bank is a great icon for savings because when you give a two year old a piggy bank and coins, what is their natural instinct?  They immediately pick up the coins and put it into the slot at the top of the piggy bank.  Once they are out of coins, do you know what their next natural instinct is?  Try to figure out how to get the coins out which may be symbolic of spending.  The cool thing about the piggy bank is you can't get the money out which may be symbolic of forced saving for the longer term.
Related article:  Pay yourself first
Some people preach the use of money jars but the problem with jars is the easy access to money.  I think jars are a better representation of saving to spend which is different than saving for the financial future.  Both have a role.
Start pay yourself first early
Recently, I received an amazing gift from my friends at Financial Services Group.  Scott Kwasnechka sent each of my boys a personalized ceramic piggy bank with $3.41 cents in each of the piggy banks.  Needless to say, my boys were pretty excited and wanted to fill the piggy banks up as I have taught them.  Piggy banks are a great tool to teach kids how to save.
What was more interesting to me (and most parents) was the laminated sheet that came with the piggy banks that showed the future value of $3.41 invested daily.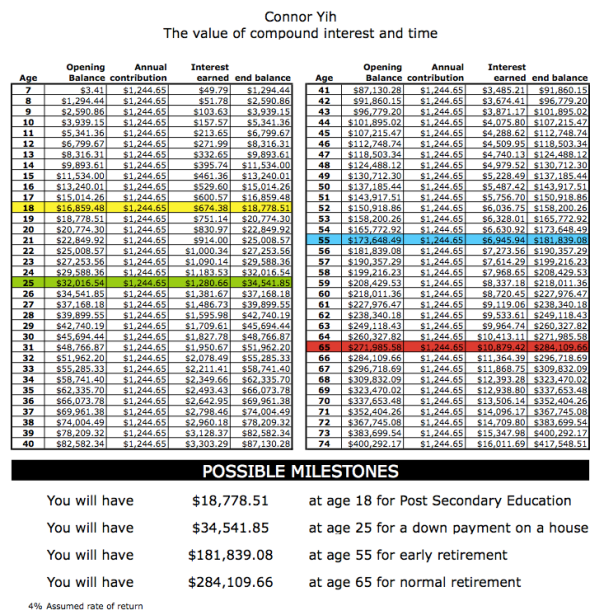 As you can see, saving $3.41 per day can really create some great opportunities for the future when it comes to funding education, buying a home or even for retirement.  I think this is an amazing way to create awareness, not only for kids but according to Scott Kwasnechka, "The piggy banks seem to have a greater impact on the parents.  It's the parents that really buy into the idea of putting money away for the kids starting as soon as possible"
The benefit of starting early
In comparing the 4 spreadsheets created for my boys, I was reminded about the importance of starting early.
| | | | | |
| --- | --- | --- | --- | --- |
| Milestones |  Starting at   age 3 |  Starting at   age 5 |  Starting at   age 7 |  Starting at   age 8 |
| Age 18 – Education | $27,253.56 | $22,849.92 | $18,778.51 | $16,859.48 |
| Age 25 – Buy a Home | $45,694.44 | $39,899.55 | $34,541.85 | $32,016.54 |
| Age 55 – Early Retirement | $218,011.36 | $199,216.23 | $181,839.08 | $173,648.49 |
| Age 65 – Normal Retirement | $337,653.48 | $309,832.09 | $284,109.66 | $271,985.58 |
The difference between starting at 3 years of age versus starting at 8 years of age is significant at all milestones.
Related article:  Start Saving early early
The biggest enemy of saving is procrastination.  Don't wait and get started sooner than later.
Saving a little more each day
American Best Selling author, David Bach, popularized the Latte factor which is simply a term that suggests cutting back spending so that you could save $5 per day.  Can you think of something in your life where you could be able to cut out spending of $5.00 per day?  What if we were to put away $5.00 per day instead of $3.41 per day?
| | | |
| --- | --- | --- |
| Milestones starting at age 3 | $3.41 per day | $5.00 per day |
| Age 18 – Education | $27,253.56 | $39,961.24 |
| Age 25 – Buy a Home | $45,694.44 | $67,000.65 |
| Age 55 – Early Retirement | $218,011.36 | $319,664.76 |
| Age 65 – Normal Retirement | $337,653.48 | $495,093.07 |
Even a $1.59 per day makes a significant difference over time
Related article:  The Latte Factor
Teaching kids to save with a piggy bank can be a very powerful lesson because developing the habit to save money is one of the keys to financial success and the best way to develop the habit is to start as early as possible.