Tax Free Savings Account or paying down debt?
Tax Free Savings Accounts (TFSA) are really gaining traction and popularity. Everywhere I go, people seem to be interested in the TFSA because they are tax free. And why wouldn't tax free appeal to you?
That being said, I am reading more and more articles that suggest TFSAs are better than RRSPs and will eventually make the RRSP obsolete as a savings vehicle for retirement. This is just ridiculous.
If you want my take on the new debate between RRSPs and TFSAs check out some of my previous work.
How about a new debate between TFSA and debt?
I've written about other debates in the past like the RRSP vs mortages, the RRSP vs the TFSA and the RRSP vs non-RRSP but let's tackle a relatively new debate that seems to be quite common.
I see a lot of people with TFSAs invested in savings as opposed to stock, Mutual funds, etc. But many of these people are carrying debt and many times I wonder if this is the right strategy.
Tax Free Savings Account vs paying down debt

I recently sat down with a couple (let's call them The Smiths) that have a $400,000 mortgage which is costing them 4.35% in interest. They also have $20,000 in a Tax Free Savings Account (TFSA) invested in a savings account at 1.75%.
When I asked them why they bought the TFSA, they said it was because their bank suggested they open a TFSA account because the money would grow tax free. Some of their friends and collegues also confirmed that a TFSA was the next best thing since sliced bread.
As much as tax free growth is good, the problem with the Smith's situation is they are losing money every day they have the TFSA. Think about it from this mathematical perspective . . . the TFSA makes 1.75% but the mortgage is costing them 4.35%. If they used the $20,000 and put it against their mortgage, they would benefit by 4.35% instead of 1.75%.
Imagine I am the bank. Can I borrow $20,000 from you please? I will pay you 1.75% on that $20,000 and any interest I pay you is tax free. But at the same time I am going to lend you $400,000 and charge you 4.35%. Basically I make money off you anyway you look at it. No wonder the banks are so profitable!
A simple view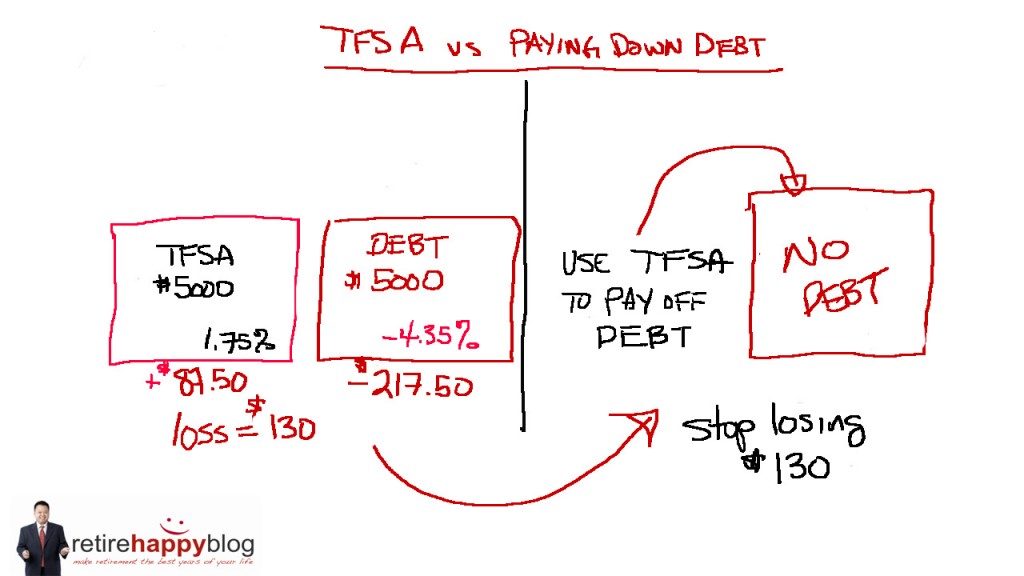 Let's look at this chart. If you have $5000 in a TFSA earning 1.75% and a $5000 balance on a Line of Credit costing you 4.35%, you will be earning $87.50 in the TFSA but paying the debt costs you $217.50. That means you lose $130.
If you take the $5000 in the Tax Free Savings Account and pay down the debt, you stop losing $130. It's pretty simple math if you ask me but yet I see a lot of people like the Smiths making the banks more profitable.
Do you have any thoughts or insights to add?