Willful Review: Canada's Best Online Will Provider?
According to the Canadian government, only 55% of Canadians have a will, and just 40% have a Power of Attorney in place. The numbers are worse for younger Canadians. Only 22% of Canadians under age 35 have a will.
One Canadian company is trying to improve those statistics by offering online legal wills that are affordable and easy to prepare. The company is Willful, and with more than 100,000 customers having legal documents prepared, they're well on their way.
However, is online will making software safe and legal? Isn't that what lawyers are for? In this Willful review, I'll explain how their process works, whether or not Willful is legit, and why you might want to consider getting an online will.
What Is Willful?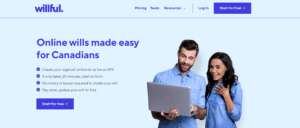 Willful is a fintech company that provides online legal wills to Canadians in six Canadian provinces. Founded in 2017, Willful's mission is to "use technology to provide simplified end-of-life planning."
According to Willful, too many Canadians put off end-of-life planning because it's uncomfortable or they don't know where to begin.
With Willful, you can express your final wishes by creating a complete estate plan online in minutes. You can also prepare other important life documents, like the power of attorney documents for health (living will) and property, and record your funeral and burial wishes.
How Willful Works
Have you ever used online tax return software like TurboTax or Wealthsimple Tax? Willful works are kind of like that, except for wills. You begin by signing up with your email address and password. Willful will ask you a few introductory questions to get to know you better.
From there, Willful guides you through a series of questions. Based on your responses, Willful will prepare the correct legal documents and eliminate unnecessary ones.
Once you've completed the process and paid for your online will, Willful lets you print all the documents so they can be signed and witnessed. One advantage to Willful is that you can always go back and edit and update your will when changes are required.
Sign Up with Willful and Receive a 15% Discount
Willful Pricing & Plans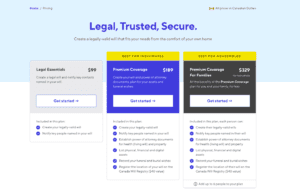 Willful has three online will packages to meet the needs of most individuals. They range in price from $99 to $329, a fraction of what you would pay through a lawyer.
The Legal Essentials package lets an individual set up a legally-valid will without any bells & whistles, like a power of attorney or living will. If you want to add either of those, you can opt for the Premium Coverage plan, which comes with a few added features (listed below) for $189.
The best value for couples and households is the Premium Coverage for Families, which at $329, includes everything in the Premium plan for you and your spouse. In addition, you can purchase up to six more Premium plans for members of your household at a discounted price.
Here's a closer look at each Willful plan:
Legal Essentials
Price: $99
What You Get:
Create a legally-valid will
Notify key people in your will
Premium Coverage
Price: $189
What You Get:
Create a legally-valid will
Notify key people in your will
Power of attorney documents for health (living will) and property
List of assets (physical, financial, digital)
Record your funeral and burial wishes
Registration in the Canada Will Registry ($40 value)
Premium Coverage for Families
Price: $329 (for two adults)
What You Get:
Create a legally-valid will
Notify key people in your will
Create a legally-valid will
Notify key people in your will
Power of attorney documents for health (living will) and property
List of assets (physical, financial, digital)
Record your funeral and burial wishes
Registration in the Canada Will Registry ($40 value)
Plus: Add up to 6 people to your family plan
Willful Pros and Cons
There's a lot to like about Willful's convenience and affordability. And while there are drawbacks, they have more to do with online wills than Willful itself. Here's my list of Willful pros and cons:
Pros
User-friendly. You will have no problem navigating Willful's platform if you've never had a will.
Affordable: You'll save hundreds of dollars by choosing Willful over a lawyer-prepared will.
Free updates: Over time, most wills need to be updated. You can edit your will at any time via the Willful platform for free. Your lawyer can do that too, but it won't be free.
Convenient: If you compare the time and effort required to get a will drafted by a lawyer versus Willful, there's no comparison. Willful wins, hands down.
Learning centre: Willful knows that many of their clients are inexperienced regarding wills and estates. So they've packed their website with helpful resources through their Learning Center and Blog pages.
Cons
Complex estate planning situations: You might want to visit a lawyer for legal advice if you are going to have a complex estate, i.e., you own foreign property or investments, you own a corporation, or you have a complicated family situation. While Willful does cover these, it might not be as specific as you'd like. Thankfully, most people's wills are relatively straightforward.
Not available across Canada: Currently, Willful is available in the following provinces: B.C., Alberta, Saskatchewan, Manitoba, Ontario, New Brunswick, and Nova Scotia. They also serve residents of Quebec with a dedicated website. If you live in PEI or Newfoundland and Labrador, you'll have to wait until Willfull extends its services to your province.
Sign Up with Willful and Receive a 15% Discount
Do I Need a Lawyer to Draft My Will?
Lawyers can provide expert legal advice that cannot be replaced by an online will and can be valuable when planning your estate. They can also assist with other estate planning issues, such as taxes, helping you choose the right guardians and trustees, and helping you navigate complex family issues.
With that in mind, you can create a legally binding will without a lawyer. The biggest problem with lawyer-drawn wills is the cost. For example, most law firms charge over $1000 to prepare a basic will and power of attorney for a married couple. And when you need to make changes, which is almost certain, you will pay for that too.
If you have a complex legal situation, you should do your estate planning lawyer. But if your situation is straightforward, companies like Willful provide a more affordable and convenient alternative.
Is Willful Legit?
Willful is a legitimate online will company that's been approved by the Law Society of Ontario's Access to Innovation (A2I) project. Their platform and will templates were developed with the help of experienced lawyers licensed in the provinces in which Willful does business.
One way to gauge a company's reputation is by seeking the opinion of existing and former customers. Willful is rated "Excellent" on Trustpilot with a score of 4.6/5 from more than 600 reviews. While there were only a handful of poor reviews, I decided to check them out to get an idea of customers' concerns.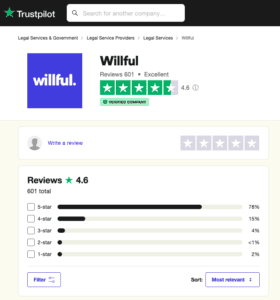 There wasn't a recurring theme, but what impressed me was how Willful's Senior Management replied directly to many of the complaints, offering to investigate further. This included CEO Erin Bury.
Willful FAQs
Are Online Wills Legal?
Online wills like the ones offered by Willful are perfectly legal, providing that you complete the documentation properly. This includes placing your original signature on the will and having it signed by an eligible witness.
Why Do I Need a Power of Attorney?
A power of attorney is important because it identifies who will be responsible to manage your finances and your property in case you are incapacitated during your lifetime and unable to make decisions. Your will doesn't take effect until after you have passed away.
Is Willful Available Across Canada?
As mentioned, Willful is only doing business in every province in Canada except for PEI and Newfoundland and Labrador.
Sign Up Here with Willful and Receive a 15% Discount
The Bottom Line on Willful
Willful is an excellent choice if you're looking for an affordable estate planning solution. In my opinion, they offer the best combination of price, ease of use, and customer experience among the Canadian legal will platforms.
Canadian Legal Wills are worth a look purely for affordability, and Epilogue for their professional services. But at the moment, Willful remains the standard bearer.