How to Earn Starbucks Rewards Through Aeroplan
Whether it's through credit cards or retail store programs, Canadians use loyalty rewards to earn discounts on everything from travel to groceries to gasoline. Sometimes, you can earn bonus points by stacking rewards.
Since 2021, Aeroplan and Starbucks Rewards have joined forces, allowing their customers to increase their earning power by linking their rewards accounts. Aeroplan members can earn Aeroplan points when they shop at Starbucks and convert Aeroplan points to Starbucks Stars, which can then be redeemed for Starbucks beverages, food items, and merchandise.
But how do you link your Aeroplan account to Starbucks Rewards, and is it worth converting Aeroplan points to Stars? I answer these questions and more in this article.
About Aeroplan and Starbucks Rewards
Aeroplan is Air Canada's loyalty rewards program. It allows you to earn points that you can redeem for Air Canada flights, hotels, car rentals, gift cards, merchandise, and more. You can collect Aeroplan points by purchasing travel through Air Canada, shopping at your favourite retail stores through the Aeroplan eStore, or by using an Aeroplan-affiliated credit card through TD, CIBC, or American Express.
Starbucks has its own loyalty rewards program called Starbucks Rewards. You can sign up through the Starbucks website or download the Starbucks app. Every time you Starbucks purchases, you'll collect rewards points, also known as Starbucks Stars. You can redeem your Stars for free food, drinks, and more.
The more Stars you collect, the better the rewards. For example, 25 Stars allows you to add an extra espresso shot, your favourite syrup, or a dairy substitute. When you accumulate 200 Stars, you can redeem them for a cold brew or latte or a hot breakfast food item.
How Are Starbucks and Aeroplan Connected?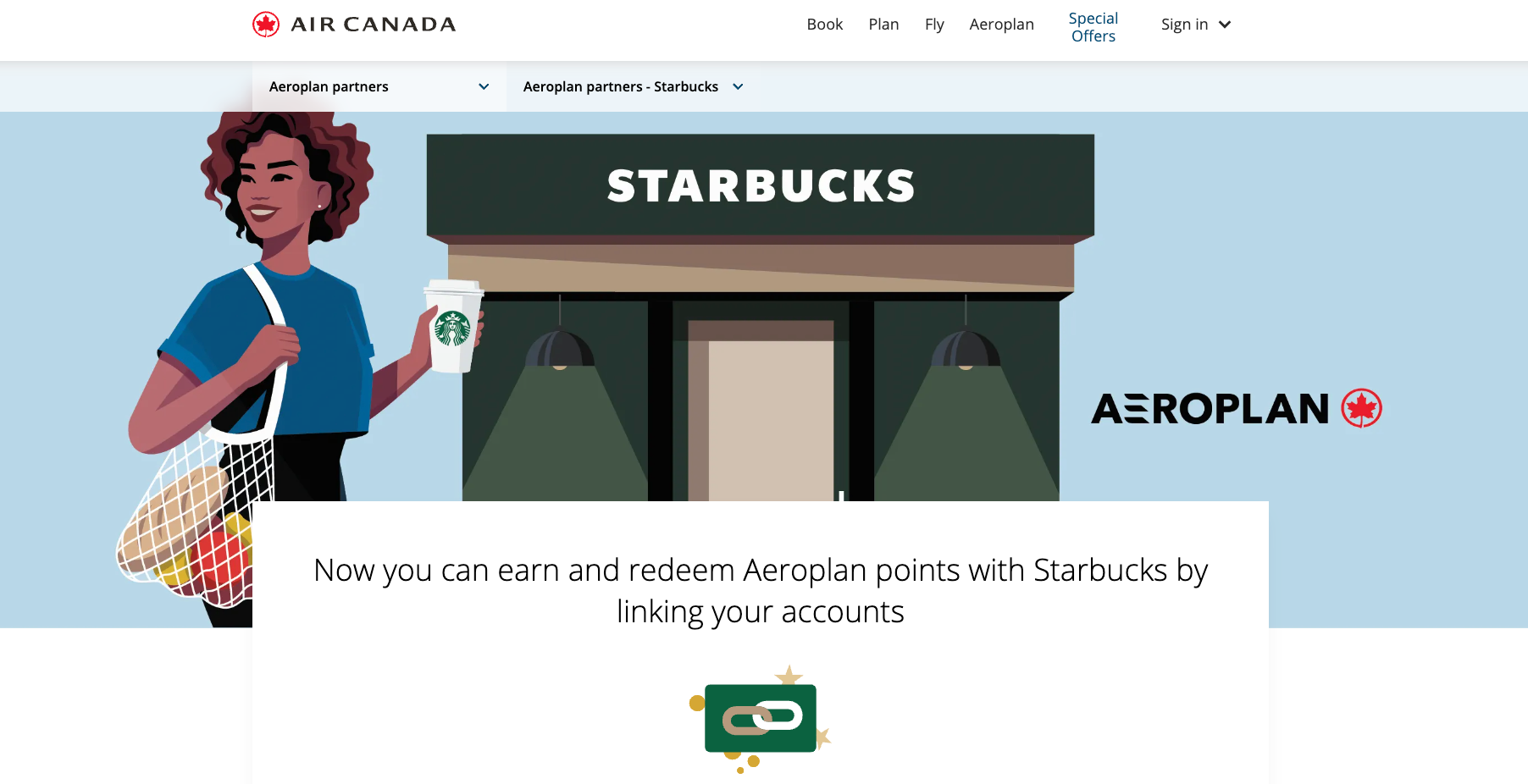 In March 2021, Aeroplan announced a partnership with Starbucks. By linking your Aeroplan and Starbucks Rewards accounts, you can now earn Aeroplan points on your Starbucks purchases. You can also redeem your Aeroplan points for Starbucks gift cards at a discounted rate, increasing the value of your rewards at Starbucks.
How to Link Aeroplan to Starbucks Rewards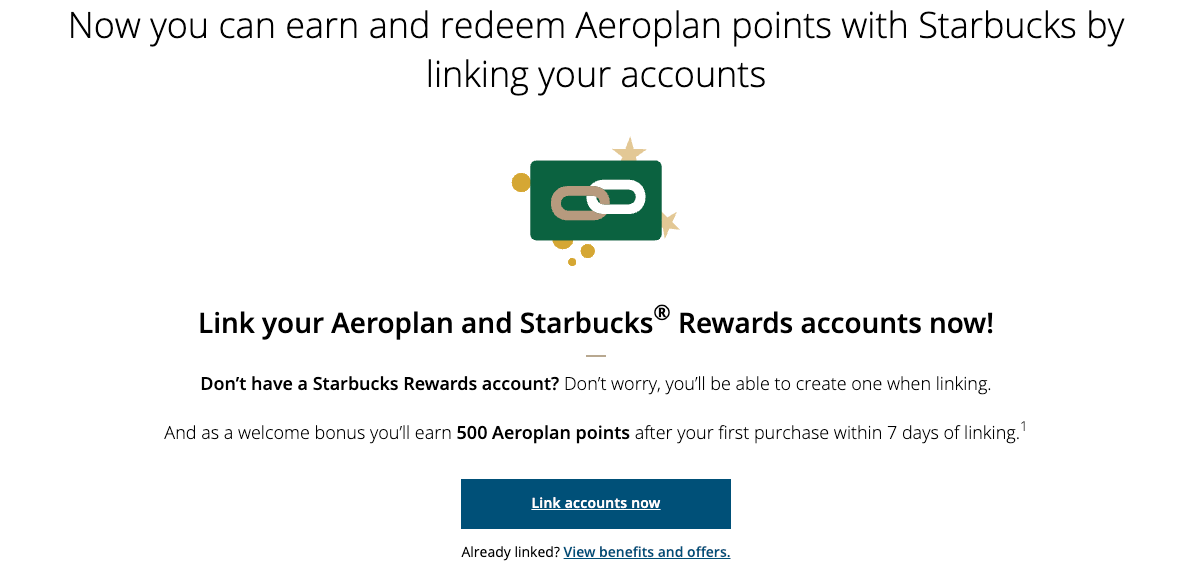 Linking your Aeroplan and Starbucks Rewards accounts is very straightforward, and if you don't yet have a Starbucks Rewards membership, you can create one during the linking process. Here are the step-by-step instructions to link your accounts:
Sign into your Aeroplan account: Visit Air Canada's website to access your Aeroplan account by entering your login credentials.
Locate the Starbucks Rewards offer: After signing in, scroll down on the home screen until you see Starbucks Rewards.
Link your accounts: Click the button to the account linking process. You will be asked to provide your Starbucks Rewards account information. If you don't have a Starbucks Rewards account yet, you can create one using the Starbucks app or on the Starbucks Canada website.
Confirm your accounts are linked: Note that Starbucks Once your accounts have been connected, you start to earn bonus Aeroplan points on your Starbucks purchases. New Starbucks Rewards members can earn a one-time bonus of 500 Aeroplan points after linking their accounts and making their first Starbucks Rewards purchase within 7 days of creating their account.
Earning Aeroplan Points through Starbucks Rewards

As you can see from the above chart, you can earn Aeroplan points by loading cash onto your digital Starbucks card via the app or through your Starbucks Rewards account online. You can also earn points at a physical Starbucks location when you scan the barcode in your Starbucks app and add the required amount to your physical Starbucks card.
Converting Aeroplan Points to Starbucks Stars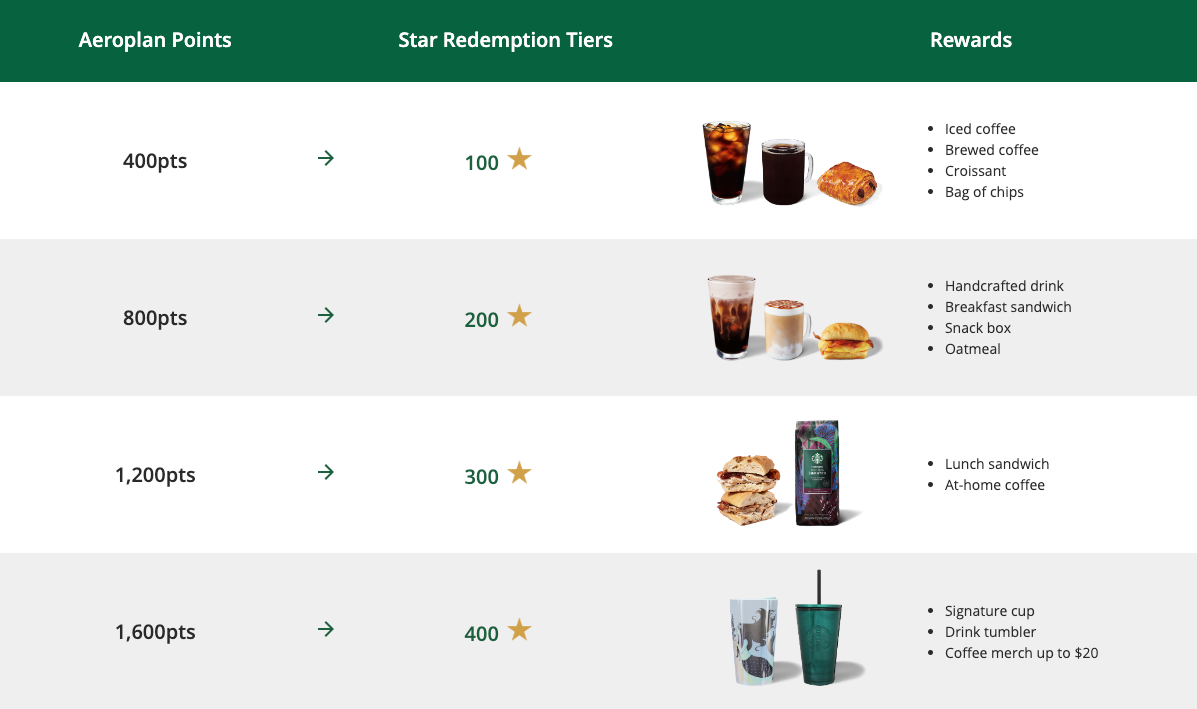 In addition to earning bonus Aeroplan points, you can convert them to Starbucks Stars instead of using them for travel or other purchases. It's just another benefit of the Starbucks/Aeroplan partnership.
Every 400 Aeroplan points can be converted to 100 Starbucks Stars. So, for example, you can convert 800 Aeroplan points to 200 Stars, which is enough to get you a specialty drink (Espresso or latte), or a hot breakfast item, like a breakfast sandwich or oatmeal.
Is Linking to Starbucks Worth It for Aeroplan Members?
If you are an Aeroplan member and a regular Starbucks customer, linking your accounts is a no-brainer. There's no cost for a Starbucks Rewards account, and it provides a great opportunity to maximize your Aeroplan rewards.
That said, you may want to think twice before converting your Aeroplan points to Starbucks Stars. That's because your points are worth more when you redeem them for travel versus converting them to Starbucks. So unless you don't plan to use your rewards for travel, then I would avoid making the conversion.
Remember always to present your QR code in the app when purchasing a participating Starbucks to earn Stars. Also, frequently check your Aeroplan account for any new offers or promotions related to Starbucks. Making the most of these opportunities will help you get closer to your next reward.
FAQs
Can I Earn Starbucks Stars with a TD credit card?
Yes, you can earn 50% bonus Starbucks Stars by linking your TD credit card with your Starbucks Rewards account and making your Starbucks purchases with your TD card. Here's a chart that lists the TD credit cards that are included in the promotion.
How do I disconnect Starbucks from my Aeroplan?
If you wish to disconnect Starbucks from your Aeroplan account, sign into your Aeroplan account. From there, locate the Starbucks Rewards section. Look for an option to unlink or remove the connection. Remember that if you choose to de-link your accounts, you will no longer be able to collect points through the Aeroplan Starbucks partnership.
What are the Aeroplan rewards for Starbucks purchases?
When you link your Aeroplan account to Starbucks Rewards, you can earn Aeroplan points on your Starbucks purchases. Remember that earning rates and promotions may vary, so always check for current offers and terms.
Can I link Aeroplan to other services like Uber?
Aeroplan primarily focuses on travel-related partnerships, such as airlines and hotels. Currently, Aeroplan does not have a direct partnership with Uber or similar services. However, Aeroplan may occasionally offer promotions or bonus points for using select partners, so it's a good idea to watch for any updates or new partnerships that may benefit you.