5 reasons you should take early RRSP withdrawals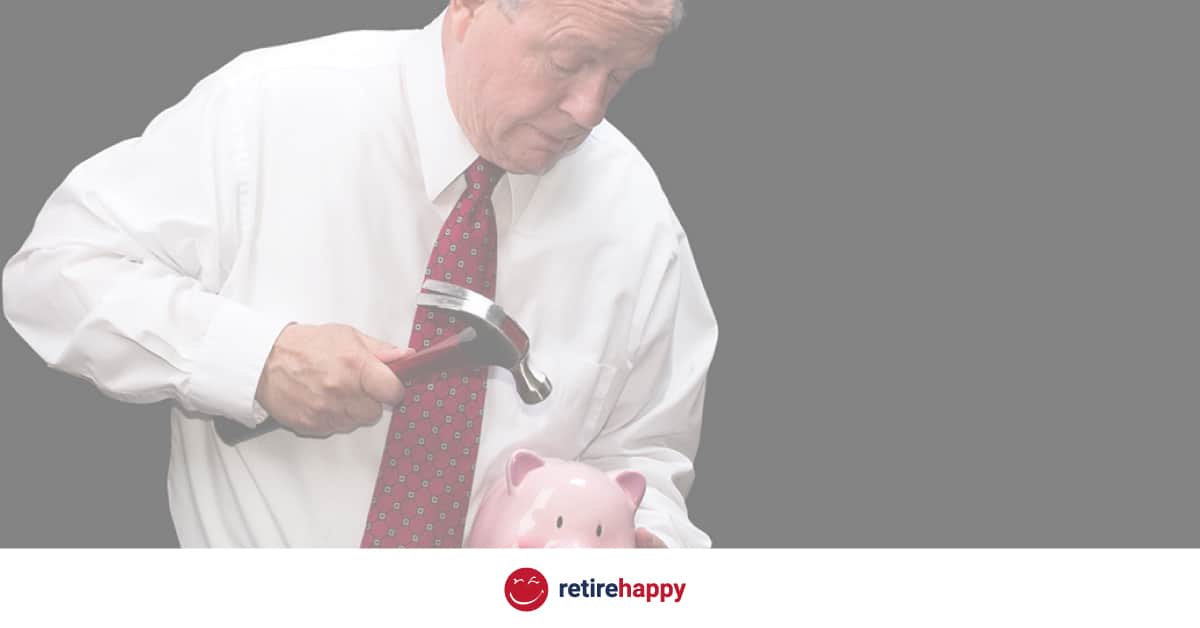 Withdrawals from your Registered Retirement Savings Plan (RRSP) and other registered accounts can be deferred as late as the year you turn 72. Tax deferral may seem like a good thing, but there are several reasons to consider early withdrawals from your RRSP.
Less lifetime tax
Consider a 65-year old couple, both with $1,000 per month of Canada Pension Plan (CPP) and $600 per month of Old Age Security (OAS). Let's say they have $100,000 each in their Tax-Free Savings Accounts (TFSAs) and $500,000 each in their RRSPs.
If we assume they need $25,000 per year to supplement their cash flow, they could take it from their TFSAs or from their RRSPs. TFSA withdrawals are tax-free, and they could take $25,000 per year from their TFSAs from 65 to 71 inclusive and that would be $175,000 cumulatively. This couple could defer their RRSP withdrawals until age 72 and rely solely on their TFSAs before that age.
However, assuming 4% annual growth for their RRSP accounts, their $1,000,000 in RRSPs would grow to about $1,316,000 by age 72. Their required minimum RRIF withdrawals would be 5.28% of the balance, or about $69,000, at age 72.
From age 65 to 71, their taxable incomes would be about $19,000 each, and their marginal tax rate on their next dollar of income would range from 15% to 30% depending on their province or territory of residence. At age 72, their taxable income would be about $57,000 each and assuming tax brackets increase at 2% inflation, their marginal tax rate would range from 28% to 37%.
Taking advantage of early RRSP withdrawals may enable this couple to pay less lifetime tax on their registered account withdrawals and maximize the tax-free growth of their TFSAs.
Related article: Developing an RRSP withdrawal strategy
Less tax on death
If we continue to consider our notional couple, the higher tax payable resulting from deferred RRSP withdrawals could be magnified if one or both dies at a young age.
If one spouse dies at age 72, for example, the survivor will have their CPP and OAS income, as well as the entire, required minimum RRIF withdrawal of about $69,000 on their one tax return. Their taxable income would be about $92,000, and their marginal tax rate would range from 43% to 53% depending on where they live (so high in part due to an OAS pension recovery tax resulting in a clawback of their OAS pension).
If that surviving spouse dies young or with a large RRSP/RRIF, the bulk of their registered account could be taxable on their final tax return at rates of 45% to 54%, leaving only about half after tax for their beneficiaries.
Related article: What happens to your RRSPs when you die?
CPP/OAS deferral
CPP and OAS deferral are both well worth considering for seniors with a long life expectancy, low-risk tolerance, or little to no defined benefit (DB) pension income.
Deferring CPP after age 65 results in a 0.7% monthly or 8.4% annual increase in the pension (plus inflation). Deferring OAS yields a monthly increase of 0.6% (7.2% per year, also inflation-adjusted).
Retirees who live into their late 80s or their 90s may leave a larger estate if they defer their CPP and OAS pensions as late as age 70. Risk-averse investors whose RRSPs will generate low returns can particularly benefit from drawing down their low yielding investments in their 60s and deferring government pensions instead.
Retirees who already have monthly DB pension income may already be protected against the risk of living too long, but those without DB pensions can add a combined 39% to their CPP and OAS income by delaying the start date to age 70. This could mean more than a $10,000 increase in indexed pension income for a 65-year-old contemplating pension deferral in 2019 (assuming 2% annual inflation).
Deferring CPP and OAS income can be considered in conjunction with early RRSP withdrawals and can result in higher potential retirement spending and a higher future after-tax estate value for some retirees.
Pension income splitting
RRIF withdrawals after the age of 65 are eligible for pension income splitting. Up to 50% of an eligible taxpayer's RRIF withdrawals can be moved on their tax return to their spouse or common-law partner's tax return in order to minimize combined tax payable.
Note that RRSP withdrawals do not qualify for splitting – an RRSP must be converted to an RRIF to generate eligible pension income.
Particularly for retired couples, the ability to take advantage of one or both spouse's low tax brackets can be beneficial.
If one of the two spouses were to die prematurely, all future RRSP/RRIF withdrawals would be taxable on the survivor's tax return, meaning a couple may have missed out on the ability to split pension income.
Related article: Understanding pension splitting rules
Pension income amount
Eligible pension income qualifies for the pension income amount, a non-refundable federal and provincial tax credit. Retirees who do not have DB pensions can take RRIF withdrawals after age 65 in order to qualify.
The tax credit refund ranges from $359 to $449 for each spouse depending on province or territory of residence.
Retirees with RRSPs and no eligible pension income who forgo the pension income amount may miss out on almost $7,000 in cumulative tax refunds by the time they turn 72.
Related article: Are you taking advantage of the Pension Income Tax Credit?
Summary
These are some of the reasons that early RRSP/RRIF withdrawals may be a beneficial strategy. There are situations where early RRSP withdrawals may not be beneficial, however, particularly for lower-income seniors.
Just remember that RRSPs are tax deferral mechanisms, but the goal shouldn't be maximum deferral all the time. It should be to contribute in high-income years, withdraw in low-income years, and try to minimize tax and maximize government benefits as best you can in retirement.