Is 0% financing for a car really a good deal?
Anyone who has bought a new car in the past 10 years has probably had an option for really low interest or even 0% financing. With interest rates at historical lows, 0% financing is popping up as an interesting option again. That being said, it is really no interest? Is it really a good deal?
Not everyone qualifies
To get 0% financing, you have to qualify based on having good credit. According to the National Automobile Dealers Association, only a third of buyers who apply for 0% financing actually qualify.Ironically, those people that can use the interest break, may not qualify.
What's the catch?
Just because you receive 0% financing doesn't mean you are getting the best deal possible. Let's look at a simple comparison to uncover the mystery behind 0% financing.
Paying cash saves you money
I recently came across the KIA website when researching the KIA Sedona minivan for our family. On the site, they show that there is a price difference between 0% financing and paying cash.
As you can see, if you pay cash, you can save $3500 off the purchase price. In effect, this is the cost of financing.
If you financed $30,967.25 over 48 months at 5.35% interest, the total cost of that loan would be the equivalent of the 0% financing purchase price of $34,467.97. In essence, 0% financing is really costing you 5.35% because you are paying a higher price.
Different times, different deals
As you can see in the image above, the numbers were run in the month of October 2012. As this article was being posted in November, I decided to run the numbers again and the prices had dropped. Interestingly, the 0% financing price dropped $1,000 while the cash price dropped more $1,660.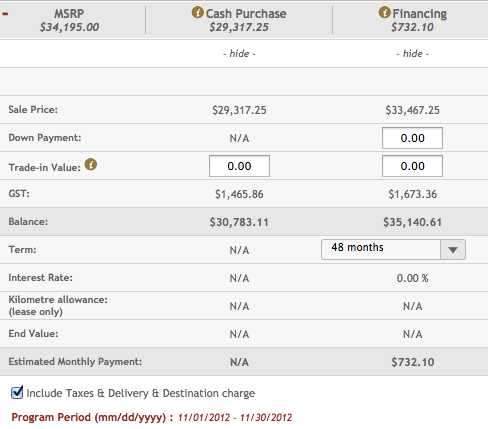 With the higher price differential, the interest cost on the 0% financing option actually increases to 6.65%. This was shocking to me but it does prove that different deals happen at different times.
As you can clearly see, 0% financing is not really interest free. I really appreciate that KIA makes the difference so clear with their online price comparison. At the end of the day, Kia is still going to make money. I just like the transparency so people like me can really analyze the numbers.
What do you think of the analysis? Did I miss anything?