Questrade review: The best Canadian online brokerage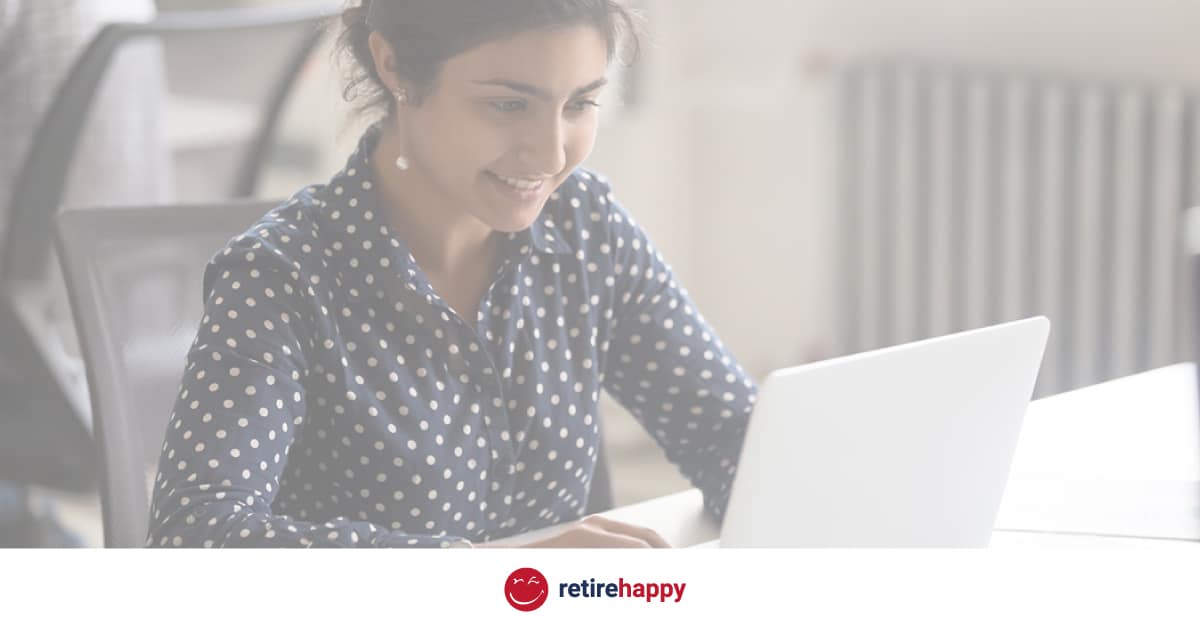 In 2019, there are no fewer than a dozen discount brokerages vying for the attention of Canadian investors; proof that online, do-it-yourself investing is alive and well. The field has become so competitive, in fact, that companies are constantly looking for ways to increase value to the client, through new products and services. One example is the addition of Robo-advisor platforms, complete with fully managed, low fee investment portfolios. But therein lies the problem. With so many choices, how does one decide which online broker is best suited for them?
Here at RetireHappy, our top pick continues to be Questrade. As Canada's largest independent online broker, its combination of low fees, a robust trading platform, and excellent customer service is pretty tough to beat. In fact, if you sign up with Questrade using our exclusive link, you'll also receive $50 in free trades. While we always recommend that you do your own research, this Questrade review should cover most of what you need to know about Canada's fast-growing online broker.
An overview of Questrade fees
Questrade's top-selling feature has to be its low fees. For starters, you won't pay an annual fee for any Questrade account, registered and non-registered. On the flip side, a number of big online brokers, including RBC and TD, charge as much as $100 for registered accounts, unless you meet their minimum household account balance. This can eat into your returns over the long run.
When it comes to commission fees on trades, Questrade has some of the lowest in the industry. Stock trades start as low as $4.95, plus $.01 per share (max $9.95), and there are no fees to buy exchange-traded funds. This is a huge win for fee-conscious ETF investors. For both stocks and ETFs, many of the big online brokers charge $9.95 per trade, placing Questrade well ahead of its competition.
Get Started with Questrade Today
You may notice that Questrade charges a quarterly inactivity fee of $24.95. No need to worry, as this can be easily avoided by making just one trade or $150 deposit per quarter. If your account balance exceeds $5,000, or you are 25 years of age or younger, the fee will also be waived.
Key Questrade benefits
$50 in free trades when you open a new account
Low minimum balance requirement of $1,000
No annual fee for both registered and non-registered accounts
No fees to buy ETFs
Stock trades starting as low as $4.95
Robust active trading platform, with preferred pricing
Managed ETF portfolios available through Questwealth
Socially Responsible Investing
Comprehensive trading platform, with IQ Web, and IQ Edge
Intuitive mobile app
Active trading with Questrade
For active traders, Questrade has plenty to offer. For starters, you can opt for one of two market data plans for a fee. These come with enhanced features, as well as fee rebates for investors whose commissions exceed a specific dollar amount per month. The advanced market data plan comes with preferred pricing on trades, as well as an option to choose fixed or variable pricing depending on your trading habits. While the basic trading features will be sufficient for most Questrade investors, it's nice to know that they can accommodate more sophisticated, active traders.
Questrade market data plans
Let's take a closer look at the market data plans previously mentioned. Set at two separate price points, it makes for a 3-tier platform. Here's a breakdown of the three levels, along with what you can expect to get with each one.
Basic trading (free)
Most investors will be happy with basic trading on Questrade. Accounts are free, and you get the standard low fees, including stock trades as low as $4.95 and free ETF and mutual fund purchases. Questrade's trading platform is very comprehensive, and they provide excellent customer support through an online live chat feature, that can be accessed from 8 AM – 8 PM, Monday to Friday. As well, all customers also have access to the Questrade mobile app, which is available for download on all iPhone and Android devices.
Tier 2 – Enhanced Market Data Plan ($19.95/month)
For a monthly fee of $19.95, the enhanced market data plan gives you everything that's included with the basic tier, as well as more data add-ons, and live streaming features. Also, if you spend at least $48.95 in commissions in a given month, the $19.95 will be rebated back to you.
Tier 3 – Advanced Market Data Plan ($89.95/month)
The advanced tier is ideal for traders who are spending more than $100 on commissions every month. At this level, traders become eligible for Questrade's active trader pricing, as well as multiple-level live streaming data. As with the enhanced plan, you'll receive a $19.95 rebate if you spend more than $48.95/month on commissions, and your entire monthly fee will be waived if commissions exceed $399.95
Questrade active trader pricing
Investors who have registered for the Advanced Market Data Plan have the choice of 2 active pricing options, Fixed, and Variable. Which one you choose will depend on the type of trading you do. With fixed pricing, stock trades are a flat $4.95/trade, regardless of the number of shares purchased. Options are priced at $4.95 + $.75 per options contract. As for ETFs, well, those are free to buy, and you can sell for only $4.95 per trade. Fixed pricing is geared to active traders who are frequently buying large volumes of shares.
If your investment strategy involves buying fewer shares of expensive stocks ie. certain hi-tech companies, then variable pricing may be your best bet. With variable, you pay $.01/share up to a maximum of $6.95. If you were only buying 100 shares of a company, for example, you would only pay $1.00 for the trade. This is where variable pricing can be advantageous, for smaller blocks of shares. Options are $6.95 + $.75 per contract. ETFs are still free to buy, but you can sell them for as little as $.01/share, up to a maximum of $6.95. As with stocks, if you sell ETFs in smaller volumes, the fees will be negligible if you choose variable pricing.
Questwealth portfolios
If DIY investing isn't your thing, Questrade offers customized ETF portfolios through their robo-advising arm, Questwealth. They have a portfolio to fit whichever asset allocation is right for you – conservative, income, balanced, growth, or aggressive growth. Because your funds are invested in ETFs, Questwealth is able to keep the costs to a minimum, with MERs as low as .16%. Not only that, but all Questwealth portfolios are professionally managed and rebalanced where required, so you don't have to worry about a thing.
The fee structure is simple. You pay 0.25% per year on balances from $1,000-$99,999. On account balances of $100,000 and over, the fee drops to 0.20%. When compared with many active mutual fund portfolios charging MERs of more than 2%, it makes for huge cost savings.
Socially responsible investing with Questwealth
In addition to the five ETF portfolios I've mentioned above, Questwealth has a portfolio offering specifically for the socially conscious investor. These days, more and more Canadians want to hold investments that align with their values.
This has given rise to Socially Responsible Investing (SRI), also referred to as sustainable or ethical investing.
In a nutshell, SRI portfolios focus on companies that are making a positive contribution towards social causes or the environment, while steering clear of stocks from sectors such as alcohol and tobacco, gambling, pornography, or weapons manufacturing. The MERs for Questwealth SRI portfolios are slightly higher than the regular ETFs (.21%-.35%), but are still very low when compared to actively managed mutual funds.
For more information on Socially Responsible Investing, check out this podcast episode with Tim Nash.
Questrade trading platforms
Questrade offers two trading platforms, one being web-based (IQ Web), the other a desktop version (IQ Edge). While IQ Web will be sufficient for most investors, IQ Edge comes with additional tools and functionality that active traders will appreciate.
Questrade IQ Web
With IQ Web, investors can customize watch lists and stock charts, and links to news and updates, making it easy to access market research information. For most traders, especially buy and hold ETF investors, it provides more than enough functionality to get the job done.
Questrade IQ Edge
IQ Edge will appeal more to active traders, with added customization, and features such as a dedicated options trading layout. It allows traders to place advanced orders, including various options strategies. There are more options when it comes to screen settings, which can make for a more user-friendly trading experience.
Questrade mobile app
In addition to IQ Web and IQ Edge, clients have the option of trading right from their smartphone via the Questrade Mobile App. The app is available on both IOS and Android devices. At one time, it was considered a bit clunky when compared to competitor offerings, but it's undergone a number of changes in the past couple of years, and now runs quite smoothly. I use the mobile app to check the balances of my holdings, and sometimes to place trades.
Who is Questrade best suited for?
Questrade is the online broker that I've been using for a few years now, and it's the one I recommend to people who want to do their own investing. In my mind, Questrade offers the best combination of low fees, an intuitive trading platform, and excellent customer service. Opening an account is a breeze, and help never far when you need it.
I think Questrade will appeal to anyone interested in low fee investing, specifically ETF investors. The fact that no other Canadian discount broker offers the same access to no-fee ETFs can't be ignored. No annual fees on Questrade registered accounts such as RRSPs and TFSAs is another big bonus. There's no need to worry about achieving and maintaining a high balance to save on fees. Overall, Questrade has an offering that's pretty tough to beat.