Questrade Review: Still the best Canadian online brokerage?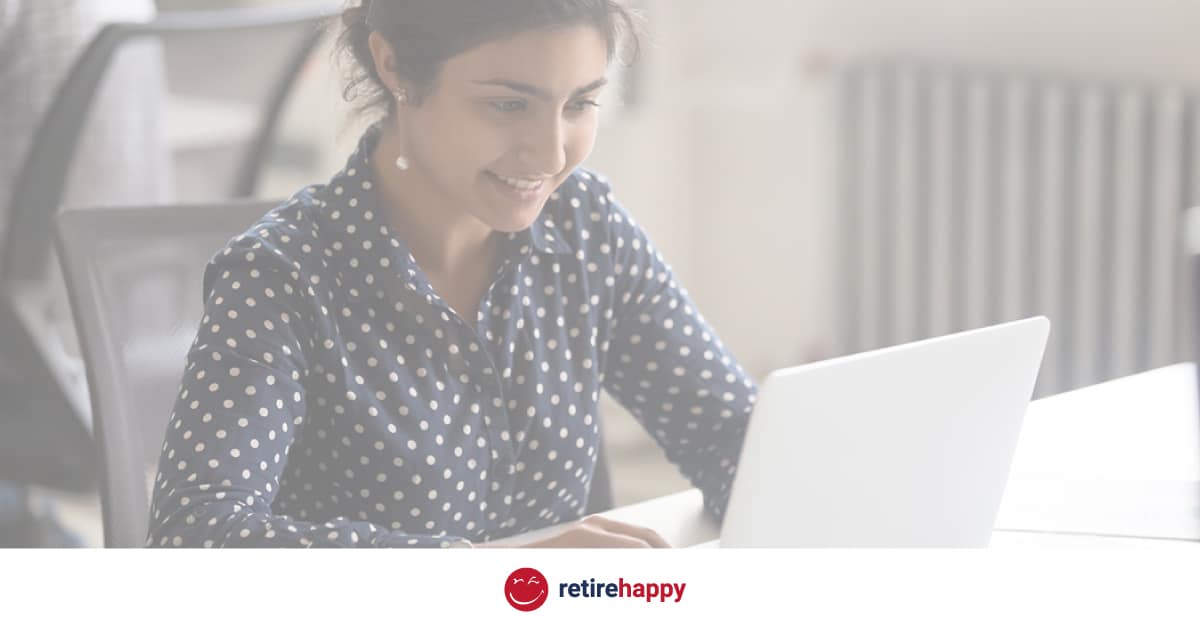 In 2023, there are no fewer than a dozen self-directed online brokerages vying for the attention of Canadian investors, proof that online, do-it-yourself investing is alive and well.
The field has become so competitive that companies are constantly looking for ways to increase value to the client through new products and services. One example is the addition of Robo-advisor platforms, complete with fully managed, low-fee investment portfolios. But with so many choices, how does one decide which online broker best suits them?
Introducing Questrade
Here at RetireHappy, our top pick continues to be Questrade. As Canada's largest independent online broker, its combination of low fees, a robust trading platform, and excellent customer service is tough to beat. And if you sign up with Questrade using our exclusive link, you'll also receive $50 in free trades.
While we always recommend that you do your own research, this Questrade review should cover most of what you need to know about Canada's fast-growing online broker.
Questrade Fees
Low fees are, without a doubt, Questrade's top-selling feature. You won't pay an annual fee for any Questrade account, registered or non-registered. On the flip side, several prominent online brokers, including RBC and TD, charge as much as $100 for registered accounts unless you meet their minimum household account balance. Make no mistake; annual account fees will eat into your returns over the long run.
Questrade also has some of the lowest trading fees in the Canadian online broker space. Stock trading commissions start as low as $4.95, plus $.01 per share (max $9.95), and there are no fees to buy exchange-traded funds (ETFs), a massive win for fee-conscious ETF investors.
Questrade Fee Summary:
Annual Fees: No annual fees on any account (non-registered, RRSP, TFSA, RESP, RRIF)
Stocks: $4.95, plus $.01 per share (max $9.95)
Exchange-Traded Funds (ETFs): Free ETF purchases
Mutual Funds: $9.95/trade (deferred sales charges may apply)
Options: $9.95 + $1 per contract
Inactivity Fee: No inactivity fees as of October 1, 2020
Transfer Fee Rebate
In addition to the fees listed above, when you transfer your money to Questrade from another broker, Questrade will rebate the transfer fees up to $150/account, regardless of the balance being transferred. See Questrade for the full terms & conditions of this offer.
Other Questrade Fees
Full Plan De-registration (RRSP, RESP, Spousal RRSP, LIRA, LRSP): $100
Partial Plan Deregistration (RRSP, RESP, Spousal RRSP, LIRA, LRSP): $50
Lifelong Learning Plan (LLP) and Homebuyers Plan (HPB) Partial/Full De-registration: $50/$100
Fee for trading US securities in your RESP account: $5 USD Commission on the first trade of the day.
CAD$ wire transfer: $20.00
USD$ wire transfer: $30.00
International wire transfer: $40.00
CAD and USD uncertified cheque: $50.00
Certified cheque: $75.00
Stop payment: $25.00
NSF cheque/returned items: $30.00
Transfer out an account to another institution: $150.00
Partial transfer of account to another institution: $25.00
Estate settlement: $200.00/account
Active Trading with Questrade
For active traders, Questrade has plenty to offer. By signing up for one of two Advanced market data packages (more details below), traders can unlock Fixed or Variable active trader pricing as follows:
Active Trader Pricing Plans
Fixed Variable
Stocks $4.95/trade. $.01/share (min $.01 to max $6.95)
Options $4.95 + $0.75/Contract $6.95 + $0.75/Contract
ETFs Free to Buy ($4.95 to sell) Free to Buy (Sell at $.01/share – min $.01 to max $6.95)
FX & CFDs Pips as low as 0.8 Pips as low as 0.8
Questrade Advanced Market Data Packages
To unlock the active trader pricing listed above, you'll need to pay for one of two Advanced Market Data Packages, as follows:
Advanced US Streaming
Price: $89.95/month (USD)
Features: Access Questrade's basic trading data, PLUS additional level 1 and level 2 data for a closer look at U.S. exchanges plus indices data.
Advanced Canadian Streaming
Price: $89.95/month (CAD)
Features: Access Questrade's basic trading data, PLUS additional level 1 and level 2 data for a closer look at Canadian exchanges plus indices data.
Questrade Trading Platforms
Questrade offers investors four different trading platforms, with a fifth option coming soon. Here are your options, followed by an in-depth look at each one:
Questrade Trading Platform: Questrade's primary (web-based) trading platform is suitable for most investors.
QuestMobile: Mobile app that allows you to trade on the go.
Questrade Edge: Questrade's Advanced trading platform for sophisticated investors (web and desktop versions available.)
Questrade app: The precursor to Questrade Edge Mobile, which is coming soon. Access advanced transactions on the go.
Questrade Global: Questrade's foreign exchange trading platform allows you to make Forex and CFD trades from anywhere.
Questrade Trading
Questrade Trading is the company's primary trading platform. It lets investors place trades and manage their accounts on any web browser. You can buy and sell ETFs, stocks, and mutual funds and move money to and from your bank account.
When it comes to research, use Questrade's symbol lookup tool to access the stock you want to analyze. Questrade provides reporting, performance data, and relevant news articles on any of the stocks you select.
Monitor your investments, get real-time quotes, and set up instant notifications with custom alerts. Questrade's consolidated charts allow you to get a quick read on how your investments and overall portfolio is performing.
In addition to creating alerts, you can set a watchlist for any stock or ETF to track its performance.
QuestMobile
Questrade's mobile app, QuestMobile, takes the functionality of its main trading platform and places it at your fingertips via your iOS or Android device so that you can stay on top of your investments and place trades from anywhere. You can access your Alerts and Watchlists from your mobile device and place trades when you're ready to invest.
There is also a Learning Mode to help new investors figure out key definitions and how to read and interpret stock data. Questrade's mobile app employs the same levels of security used by other online brokers and big banks, so you can rest assured knowing that your information is safe.
Questrade Edge & Questrade app
Questrade Edge is Questrade's Advanced trading platform for active and pro traders. It's available in web-based or desktop versions, although the desktop platform is the most powerful and has some additional features.
Of course, you get all of the standard functionality of Questrade's traditional platform, including notifications and customizable alerts, but there's so much more.
Custom Workspace: Questrade Edge allows you to create a customized workspace, making it easier to keep track of your most important data.
Advanced Trading Orders: Get access to non-standard trading orders, such as bracket orders, conditional orders, and multi-leg options strategies.
Advanced Market Research: Questrade's market research tools are powered by TipRanks. They allow you to check analysts' ratings for the stocks you're tracking, sort various news analyses, and summarize expert ratings and general sentiment using SmartScore technology.
Questrade Edge Desktop (Additional Features): By using the Edge desktop platform, you can access Stock Screeners, a Market Movers tool, which sorts the best and worst performers of the day, and a Market View window.
Questrade Global
The Questrade Global trading platform lets you trade foreign currencies and commodities across more than 15 international exchanges. As with the primary trading platforms, you can set up instant notifications and customized alerts. And there's a Questrade Global app too, that you can download to your iOS or Android mobile device.
Questwealth Portfolios
Many investors don't want the hassle of buying and selling stocks and ETFs and would prefer not to have to monitor their investment portfolio.
If that's you, Questrade has you covered through their Questwealth Portfolios, a robo-advisor solution of customized, low-cost ETFs.
Questwealth Portfolios are professionally managed and rebalanced when required, for a completely hands-off investing solution.
And the costs are reasonable, too.
Questwealth ETFs have MERs as low as .16%, and their annual fee is only 0.25% per year on balances between $1000 and $99,999. Over $100,000, the fee drops to 0.20%
Socially Responsible Investing (SRI)
These days, more and more Canadians want to hold investments that align with their values. Questwealth has a dedicated portfolio for the socially conscious investor, called SRI portfolios.
In a nutshell, SRI portfolios focus on companies making a positive contribution towards social causes or the environment while steering clear of stocks from sectors such as alcohol and tobacco, gambling, pornography, or weapons manufacturing.
The MERs for Questwealth SRI portfolios are slightly higher than the regular ETFs (.21%-.35%) but are still very low compared to actively managed mutual funds.
Questrade Customer Service
While it may not be class-leading, Questrade offers solid customer support. In addition to a chat feature that's available during business hours, you can contact Questrade support via telephone and email. Here are the contact details for each support channel:
Chat Support:
Available Monday-Friday, 9 AM to 4:45 PM EST
Telephone Support:
Available Monday-Thursday, 8:30 AM to 8 PM EST, and Friday, 8:30 AM to 5:30 PM EST
Toll-free within Canada: 1-888-298-4515
From the U.S.: 1-416-227-6615
International: (001) 416-227-6615
Email Support is also available.
Questrade Pros and Cons
It's clear that there is a lot to like about Questrade. Especially when it comes to fees. But there are a couple of drawbacks you should be mindful of before you decide to open an account. Here's my list of Questrade pros and cons:
Pros
$50 in free trades when you open a new account
No annual fee for both registered and non-registered accounts
Buy ETFs for free
Stock trades start as low as $4.95
Robust active trading platform with preferred pricing
Managed ETF portfolios available through Questwealth
Socially Responsible Investing
Cons
The $1000 minimum balance requirement is annoying
The mobile app is ok but lags behind the industry leaders
The steep $9.95 mutual fund trading fee doesn't align with Questrade's low-fee value proposition
Questrade vs. Qtrade
In addition to Questrade, you can choose from over a dozen online brokers in Canada. One of the top online brokers, Qtrade, has many similarities to Questrade, including low fees. If you're shopping for an online broker, you may be wondering how the two platforms compare. To help, here's a brief Questrade vs. Qtrade overview:
Like Questrade, Qtrade beat the big bank brokers when it comes to fees. Their standard trading fee for stocks is $8.75 and you can buy a select number of ETFs (approx 100) for free. Their registered account administration fee is $25/quarter, waived if you maintain a $25,000 balance. That's similar to the banks, which charge around $100/year and have a similar minimum balance waiver.
However, Questrade beats Qtrade on fees. Their standard trading fee of $4.95 is lower, and there is no limit on the number of free ETFs you can purchase. Of course, they also don't charge any account fees.
Mutual fund investors will appreciate Qtrade's lower trading fee of $8.75 (vs. $9.95 at Questrade). Qtrade is well-known for its customer support, and they do offer longer telephone support hours than Questrade, but they don't offer support via Chat (Questrade does).
Overall, Qtrade is a solid alternative to Questrade, but their higher pricing places them a step behind.
Questrade FAQs
Is Questrade safe? Yes, Questrade is perfectly safe to deal with. They have over $30 billion in Assets Under Management (AUM), and their platforms employ the same levels of security and encryption as any other online broker. In addition, they are members of IIROC (Investment Industry Regulatory Organization) and the CIPF (Canadian Investor Protection Fund.)
Do I need to be a pro to use Questrade Edge?
No. While Questrade Edge is designed for active and pro traders, all of Questrade's trading platforms are open to all investors.
Who is Questrade best suited for?
Questrade is ideal for any Canadian investor who values low-fee investing, especially if you prefer to buy and hold ETFs in your portfolio. And while other platforms, especially TD Direct Investing, offer more powerful market research tools for advanced and pro traders, Questrade Edge should be more than enough to satisfy most investors.
Questrade Review: Final Thoughts
Questrade will appeal to anyone interested in low-fee investing, specifically ETF investors. The fact that no other Canadian discount broker offers the same access to no-fee ETFs can't be ignored. And the fact that Questrade won't charge fees on your RRSP, RRIF, or Tax-Free Savings Account is another big bonus. You don't need to worry about achieving and maintaining a high balance to save on fees. Overall, Questrade has an offering that's pretty tough to beat. It's no surprise that it remains our top discount brokerage here at RetireHappy.